Title – 'The Magnificent Moodies' (Esoteric Recordings)
Artist – The Moody Blues
For those not in the know, The Magnificent Moodies was the 1965 debut album by The Moody Blues. First released in the UK, and the first and only album featuring their R&B line-up of guitarist Denny Laine, bassist Clint Warwick, keyboardist Mike Pinder, flautist–percussionist Ray Thomas, and drummer Graeme Edge, Esoteric Recordings have just re-released a (if you pardon the pun) magnificent 50th Anniversary Deluxe Edition (2CD) of The Magnificent Moodies.
The album, w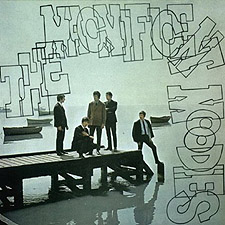 hich had lead vocals being shared by both Laine and Thomas, firmly, and quickly established The Moody Blues as serious entries into the world of 60's music at that time. A collection of R&B and Merseybeat songs, including their cover of 'Go Now' – which had been a #1 hit single earlier that year – was produced by Alex Wharton. Funnily enough, for its US release, it was retitled Go Now, mainly due to this fact! Weirder yet, The Moody Blues' four following #1 songs were all replaced and the tracks re-ordered!
This official 50th anniversary Deluxe Edition includes the original album, re-mastered from the first generation master tapes, along with all the singles the band recorded between 1964 and 1966. Notably this collection includes 29 previously unreleased bonus tracks, including the band's entire July 1964 sessions at Olympic studios in London produced by Alex Murray, all surviving BBC radio sessions recorded in 1965 and nine tracks recorded in the Summer of 1966 with producer Denny Cordell for a proposed but unreleased second album (all newly mixed from the original four-track master tapes).
With en masse of songs all crammed on to just two CDs, after the original album has played out you get a selection of Bonus Tracks, that include the A & B-side of singles such as: 'Lose Your Money (But Don't Lose Your Mind),' 'Steal Your Heart Away,' 'Time Is On My Side,' 'You Don't (All The Time),' and amongst others, 'This Is My House (But Nobody Calls).'
The second disc harbors the true gems, in my book, with the first section being the Previously Unreleased Sessions 1964-1966, which features such tracks as: 'Go Now!' (second version), 'Steal Your Heart Away' (first version), 'Can't Nobody Love You' (first version), etc. Then comes the "Saturday Club" Sessions with such songs as: 'I'll Go Crazy,' 'Jump Back,' 'It's Easy Child,' and both 'Everyday' and 'I Want To Know.' Also included is an interview with Ray Thomas and Graeme Edge and a Coca Cola radio Commercial from 1965!
The third section of this packed second disc is The 1966 Denny Cordell Sessions, which contain such cuts as: 'This Is My House (But Nobody Calls)' (first version), 'How Can We Hang On To A Dream' (first version), 'Jago & Jilly,' 'We're Broken,' 'I Really Haven't Got The Time' (a September 1966 version), and then both 'Red Wine' and 'This Is My House (But Nobody Calls)' (stereo mix).
The set is packaged in a clamshell box, with a lavishly illustrated booklet (with previously unseen photographs designed by Phil Smee) and essay written by Mark Powell, three rare promotional postcards and a poster. Inclusive of cuts such as 'I'll Go Crazy' (James Brown), 'It Ain't Necessarily So' (George Gershwin, Ira Gershwin), and even 'Bye Bye Bird' from Sonny Boy Williamson II, Willie Dixon, The Magnificent Moodies 50th anniversary Deluxe Edition is a true piece of music history; and one that needs to take its place in your music collection today.
At the height of The Moody Blues' US success in 1970, Deram Records reissued the US version of the album with a new cover and title, In The Beginning. As with this original album, the reissue did not chart either! But, as history has gone on to show us, The Moody Blues continued to record a series of singles, enjoying further chart hits in the UK and Europe. Of course, Clint Warwick departed to be replaced by Rod Clark and then what was the original Moody Blues complete dissolved in the Autumn of 1966 and reinventing themselves stylistically; with a new line-up including both Justin Hayward and John Lodge.
Cherry Red 'THE MAGNIFICENT MOODIES' CD Purchase Page