http://www.thatdevilmusic.com/2015/04/cd-review-moody-blues-magnificent.html
An individual's memory of the Moody Blues depends entirely on their age. Although the band was formed in 1964 as a sort of Merseybeat/British R&B hybrid, copping licks from the Beatles and the Animals, they would experience a long, almost continuous evolutionary arc from then until the present day. The Moodies were directly responsible for merging classical music with pop-rock with their classic 1967 album Days of Future Passed, and they continued to explore symphonic psychedelia with albums like 1968's In Search of the Lost Chord and the following year's On the Threshold of A Dream. The 1970s framed the Moodies as prog-rock pioneers, focusing their high-flying muse on collections like A Question of Balance and Seventh Sojourn that would be among the most commercially successful albums of the decade.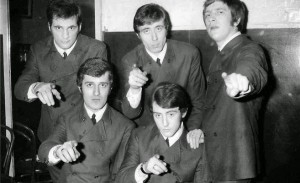 During the 1980s, the Moodies became more of a commercially-oriented pop band, cleverly incorporating classical nuances with a contemporary, synth-driven sound to score a number of hits in the MTV era. It's the early Moodies that we're concerned with here, however, the often overlooked and underrated R&B outfit that was formed by singer Ray Thomas and keyboardist Mike Pinder. Adding bassist Clint Warwick, drummer Graeme Edge, and guitarist Denny Laine (who would become better known in the 1970s as a member of Paul McCartney's Wings), the band went in search of a signature sound. A number of singles were released, the Moodies finding the top of the U.K. charts with the hit "Go Now!," which would subsequently lead to the full-length 1965 album, The Magnificent Moodies (released as Go Now – The Moody Blues #1 in the states)……
Click on the link above for the full REVIEW!!